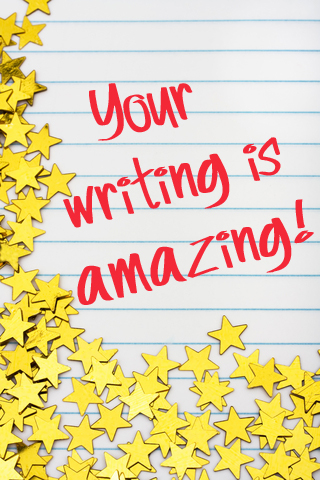 From the posting of your first Fan Fic to your thirty second, there's one thing that never changes. It's that odd juxtaposition of gnawing fear and hopeful anticipation as you cross your fingers and wait for the reviews to roll in.
It's nearly impossible to keep from wondering if anyone is going to appreciate the piece you just poured your heart, soul and every moment of stolen writing time into. And while the most important person we write for should be ourselves, that doesn't stop us from wondering what other people think. Besides, reviews can be a great way for us to improve our skills as writers.
So what's the key to getting more people to comment on your work?
Be a good reviewer.
If you're a new Fan Fiction writer, it's important to become active in the community you're planning to post in. If you leave great reviews for others, they will most certainly remember you when they see your name attached to a new story.
Keep in mind that great reviews aren't necessarily full of sunshine and rainbows. A great review makes the recipient think… Wow, this person really thought about my work and put time and effort into the comment they left for me. That almost guarantees you a reader and reviewer for your next post.
Everyone gets reviews that say, "I liked it," or "Nice job." Thanks, but that doesn't really give us much to go on. What exactly did you like or what specifically didn't work? Isn't that really what you want to know?
When you're writing a review of someone else's work, think about the following:
The component parts of the story: plot, dialogue, pace, setting, perspective, transitions, humor, emotional impact, language and characterization.  What worked for you?
The types of reviews that have meant the most to you
Reviews that were helpful to you
How did the story make you feel or think when you were finished reading it.
So how do you write a review like that?
Start with a positive. The first thing you mention in your comment should be something you feel the author did well. "I loved the way you tied the end back to the beginning. It gave the whole story a feeling of completeness that mirrored their relationship."
Next, ask any questions the story might have left you with. "The dream sequence seemed a little unfocused and hazy. Is that the feeling you were trying to create?"
Now would be the time for constructive criticism, but bear this in mind. If you can't actually be constructive and gentle, don't go here. Simply point out, as nicely as possible what did not work for you. "Your hook drew me right in, but I thought the pacing lagged a little bit in the middle. Tightening up your dialogue might be all it takes to keep that great tempo going from the start through the areas that bogged down a bit."
Sum up your comment with another positive. "Overall, I thoroughly enjoyed this story. If only we'd get to see the characters explore more of this on screen. Very well done!"
Comments don't need to be epic to be awesome, but they do need to be thought out, truthful, honest and kind.  If you've ever been on the receiving end of a nasty-gram, remember how it felt and practice the Golden Rule.
And if the story has no redeeming qualities at all? Well remember what your mom told you. If you can't say something nice, don't say anything at all.