Do You Want to Be a Better Writer?
Fan Fiction is the perfect way to learn to write fiction. You can start small, easily find your audience, and practice your craft within a supportive community. To become a writer, you must write, and this is a unique and easy way to get started.
How to Write Fan Fiction is the ebook for anyone who has ever wanted to write a story, but has no idea where to start. This book takes you through the entire process of writing a story, from start to finish.
You'll learn what mistakes rookie writers make, and how to avoid them. You'll get detailed instructions on how to write both short and longer, multi-chapter stories. I even cover how to write adult stories.
Many of today's published writers started out writing Fanfic before going on to successful careers in print. How to Write Fan Fiction helps you to uncover everything you need to know to become a writer.
How to Write Fan Fiction also includes a free downloadable workbook full of all the worksheets you need to write a great story. Instructions for the download are in the book.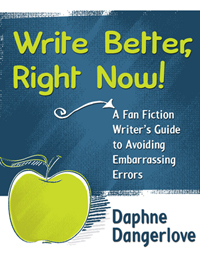 Do you want to know the easiest and fastest way to be a better writer?
The answer is right in this book: understand grammar and punctuation.
Yes! It really is that simple. A mechanic wouldn't work on a car without the proper tools, and a writer should never approach his or her work without a basic knowledge of the rules of writing.
I've put together this quick and easy guide for you with just the facts. No mumbo-jumbo to wade through. Easy to follow rules with examples to follow.
This book is for you if you are editing your own work, or editing for friends and critique partners.
 Write Better, Right Now! is available exclusively at Amazon.com for only $0.99!