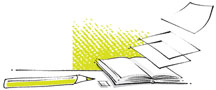 Before you write your first words, it's a good idea to know what the qualities of a good story are. Following these basic tips really is the key to boosting the number of reviews and comments you get on your stories. Readers are far more likely to comment on your story if you've taken the time to present the best possible product. The following 5 tips are designed to help you be the best writer possible.
Know Your Characters – There is pretty much nothing worse than an out of character Fan Fiction story. When potential readers click on your story, they are doing so with the assumption that you are writing about the characters they already love. So it's up to you to make sure that you do your homework, watch your show, and pay attention to characterization.
Know Your Grammar & Punctuation – I'm not asking you to whip out your 8th grade grammar book, but you should know the basic rules of punctuation-especially for dialogue. There are lots of reputable grammar related sites accessible on the internet, so if you don't know it, look it up. Don't forget to start a new paragraph when you change speakers-this is one of the most common mistakes out there. (Need help with this? I've got you covered. Check out Write Better, Right Now!) And be sure to use spell check (I know you've heard this over and over!) because there is no excuse for mis-spelled words.
Revise Your Story – This means that you read through it after you have written it, smoothing out any rough patches and correcting any errors. I also highly recommend finding a beta; an objective set of eyes can do wonders for a story. Your beta can read your story for technical errors as well as plot and continuity issues. Most fandoms have message boards or posts that can help you find a beta reader. (More tips on working with a beta reader here.)
Use a Disclaimer – Because you are using someone else's intellectual property to write your Fanfic, you need to include a disclaimer. This should be part of your header (where you indicate the title, author, rating, and pairing) and should include the fact that you acknowledge your characters are products of their creators and you have made no money in the writing of your story.
Rate Your Story – Readers need to know what to expect when they click on your story. Remember, kids are on the internet too, so if you have adult content, be sure to note it. Different sites use different rating systems, so check the guidelines of the site where you plan to post. Sites like LiveJournal also require adult content to be put behind a "cut" or link that the user must click to access the content.
Follow these 5 rules when you write, and you'll pick up vital new skills that will vastly improve your writing. Set yourself apart from all the badfic that is posted in your Fandom, and earn yourself a reputation for excellent writing (and watch your reviews skyrocket) by knowing how to write Fan Fiction. The skills you develop writing today will be ones you use your entire life!