It's no secret I'm a huge fan of using project management software for novel writers. (If you've read any of my books, you probably know that!) I just could not believe the difference in my productivity. And when it comes to managing your writing, blogs and your online presence in general, anything that saves time is a winner in my book. So make technology work for you and give one of these programs a try.
Scrivener – Mac or Windows –Scrivener's main attraction is its super clean, attractive interface.  It has drag and drop capabilities to organize your chapters and scenes (which I love) and a corkboard where you can 'pin' index cards. There is a video tutorial to get you up and running in 10 minutes. Scrivener costs about $45. You can try before you buy, so you have nothing to lose!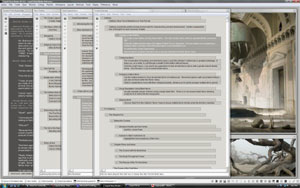 Liquid Story Binder – This program has a super slick, customizable interface.  I had a little too much fun playing with this, and I did enjoy writing in it. It has endless capabilities for organizing the hundreds of tiny details that plague you when you are writing a long story. This program will also run you about $45.  You can try it for 30 days before you buy.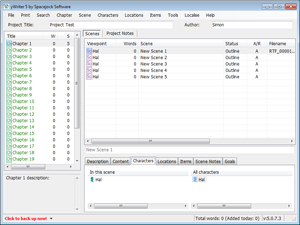 yWriter – I have been a long time user and fan of this program.  yWriter is free to download and has a community of users that are quick to answer questions if you have a problem.  You can even set it up so it makes typewriter noises while you write. It has a bare bones interface, which actually makes you write instead of playing with the program .  You can run it off a USB drive, so it is portable for those of you who write on multiple computers.